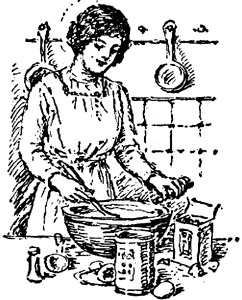 Ok, I admit that I don't normally do this, but tonight I made three different dinners. I decided on an English fair (quasi-English, no doubt) of Cornish Pasties (not to be confused with American pasties, a
whole
other type of fare there). The kid, of course, turned his nose up to the thought of that and the teenager had other ideas in mind. So, the hub and I had the pasties, the teenager had hard-boiled eggs and the kid had good old fashioned fattening macaroni & cheese. Again, my motto is "
if you don't like what I cook, you're on your own
." But I knew the hub wouldn't mind the mac & cheese as a side and the eggs were already being boiled this afternoon. So, everyone was actually happy tonight at dinner. Mom had leftovers from our lunch today, so she was a no-show.
I was reading
Mr. English's blog
today and he had a post on some restaurants in the West End of London.
It got me to thinking about all the good food I've enjoyed over there. I am especially fond of their pub fare--bangers and mash (my fav), steak and kidney pie and, of course, fish and chips. The last time we were there, we took the kid with us. We weren't aware that some pubs don't allow children in. We were asked to leave several before we caught on to asking before we entered with him in tow. It does make perfect sense, though.
We're just so used to dragging him everywhere we go, it never even dawned on us. He enjoyed the English food as much as we did. He would sit down to a full meal of fish and chips and devour the entire plate--with a half-pint on the side. Oh, no, that was the hub,
sorry
. But, yes the kid (probably all of 60 pounds at the time) would eat a full portion of their fish and chips too--no ale.
I had my first pasty years ago in London at Covent Garden.
The West Cornwall Pasty Company
had a great little stand there selling their goods. It's a great place to grab a bite on the run while you're out shopping in the area.
No need to stop and sit, just grab one and you're back in flight savoring every moment in London with TO-DO list in hand. My favorite is the Cornish pasty which consists of beef and potatoes. They are so good.
I've told you about how I like one-pot meals. Well, this is a one-pot meal in a pastry shell. Very easy, but of course, not too much like the English version. I found this recipe on line and I'll call it the lazy-man's version. They turned out ok, fun to make and would be good for a party. After having the real thing, I wasn't truly satisfied, of course. I had a lot of filling left over which I will probably turn into a meat pie (line pie dish with meat filling and cover with biscuit dough and cook--voila, meat pie). Will I make them again? Probably not. Will just have to fly to London next time I get a craving.
Lazy-Man's American Version of Cornish Pasties

1 lb. ground beef
1 C frozen potato hash browns defrosted
1/2 C coarsely chopped carrot
1/3 C finely chopped celery
1/2 C chopped onion
1/4 garlic powder
black pepper
1/4 t fine herbs or bouquet garni
1 bottle of beef gravy
1 package all-ready pie crusts
Preheat oven to 375 degrees f. Brown beef in skillet; drain well. Add rest of ingredients and mix well and heat through.
Unfold pie crusts and quarter. Place a tablespoon or two in each quarter and fold over. Quickly seal edges by pressing together with fork tines. Prick tops with fork to allow steam to escape.
Place on ungreased cookie sheets. Bake in over for 25-30 minutes until golden brown. Remove with spatula and serve immediately or cool on rack.